---
Equal Shares
Fractions are equal shares of an item, such as a single object, an area, or a group of items. In third grade, we explore the use of fractions and their relationships. Students will work with halves, fourths, eighths, thirds, and sixths.
​
The numerator is the number of pieces that are shaded or in each share.
The denominator is the number of total pieces.
---
Websites for Practice
The following websites are are helpful for learning, practicing, and mastering multiplication facts:
Powered by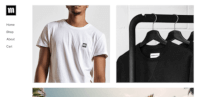 Create your own unique website with customizable templates.